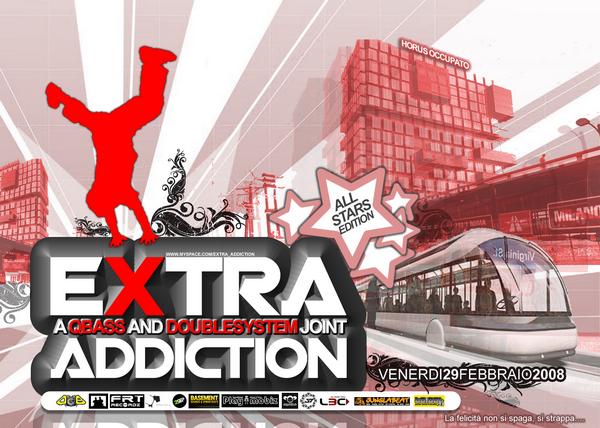 :::EXTRA ADDICTION – ALL.STARS.EDITION:::
Extra Addiction nasce dall'idea di DoubleSystem e Qbass di festeggiare il primo compleanno dello stesso Progetto DoubleSystem.
Negli stessi giorni, inoltre, compierà gli anni anche Marco Ohm, dj romano tra i promotori di Qbass.
DoubleSystem e Qbass non si trovano né per la prima volta, né per caso ad organizzare un evento insieme.
Le
due crew condividono infatti le stesse idee rispetto alla concezione di
"serata", rispetto agli spazi attraversati, rispetto al "diritto
d'autore" e alla proprietà intellettuale, al libero accesso alla
cultura e alla sua libera circolazione.
Da qui, il passaggio diretto
all'idea di creare una situazione che venisse attraversata non solo da
chi la promuove, ma anche da tutto il tessuto culturale metropolitano
che da anni è protagonista della scena artistica capitolina, è stato
immediato.
Quindi, la piattaforma dalla quale è partito il progetto
Extra Addiction è stata quella di un piano organizzativo aperto alla
creatività di tutte le realtà invitate a prenderne parte.
Un piano
che prevede un ampio spazio di sperimentazione innescata dalle sinergie
nate dal confronto tra soggetti artistici diversi e apparentemente
lontani.
Dalla ricerca di qualcosa che vada oltre…
Alla voglia di sperimentare ed eccedere!
Così nasce Extra Addiction….
———————————-
programma evento clicca su continua

TERRAZZA (SPAZIO APERITIVO)
Apertura/Chiusura: 19:00/23:00
19:00 Aperitivo elettronico
**DOUBLESYSTEM EXPO CORNER
:::MarS:::
Live and dj set:
**Tuli from 'NditinaDubFamily
**Cpt. Nemo from Liquid.One
20:30 Cena
::HAPPY B-DAY TO MARCO OHM, MR.CICCIO, DJ DOUBLEBEAT e G.ROCKY!!!!!
21:00 Live set:
**Fire At work
DANCEFLOOR & BALCONATA
Apertura/Chiusura: 22:00/06:00
Live Performance:
**KI KREATURES
INSTALLAZIONI:
**Metafisica Industriale + Videoistallazioni (Dionea)
**Playpart+Patchwork:"New vision of visual":Ctg37Bikinidresscode feat. ColinCat"Agua mi sangre"
**"Enjoy Trough the Window" a writing video concept by: Sara Taigher, Control+Visual, Nemo
**Installazione + Expo with/con Peter Damianovich (Studio Prima Relaese)
**3d fetish:NON SONO STATO IO! (PatchWork)
**Space Jogging (Ran Ancor)
**aMaNiTaMooDs (am_anita)
**"Extra addiction" (Nickelbox)
**Claudio K aka Dottor"K" (Farabut)
**biomeccanical-tecnological-recicling (BRT Lab)
D'n'B dj and live set:
**Marco Ohm (Qbass) + Guitars Distorcion Performance di Willerz
**Andypop (Basement Magazine) b2b Ale G (2step)
**Mufz b2b Silis (FRT Records)
**Kursk (Aghata)
**Esse-K b2b Yosh (PlayMobiz)
**AlternatoFunk b2b Georgious (Pocket Panther Records)
**Atomi Tags (Urban Pressure)
**SPECIAL GUESTs**
from JUNGLABEAT
::DjFuzzTen + Emos::
Live Scratch+Beatbox Performance
VJ SET
**Imagine is everything::Talkshow psichedelico::by RiotGenerationVideo
**Subliminal Video (Qbass)
**Ka:lu
**Yaro
**Mandala Mind Loop
**Ctrl+V
Ingresso (dalle 19): 5 euro
@Horus Occupato
Corso Sempione, 21
Montesacro – Roma